3d Visual | Proposed Building Renovation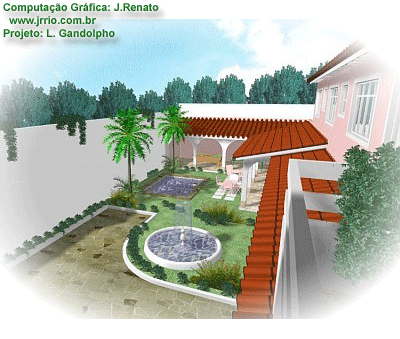 3d computer graphic presentation regarding building renovation proposal. The architectural renderings and 3d modeling provided 3d exteriors renderings regarding the renovation proposal of a building with arcade courtyard.
Using photorealistic renderings, it was possible to compare the new building design with the old building that was falling into pieces.
About The Rendering Service
This architectural rendering service was oredered in 2003. This presentation includes animated images comparing the 3D renderings regarding the proposed renovation with the building "falling into pieces" pictures or its previous situation.
I made this work for an Architect to whom I had produced several 3D renderings before. He required only static images to visualize his proposal regarding the development of this property, and then to show to his client. So they could visualize the renovated building long before its completion.
The renovation proposal refers to a small facility in Natal City, Rio Grande do Norte State, in the far north of Brazil.
On the right, the animated sequence of images shows courtyard seen from the balcony and eye level view.
Notes On 3d Modeling and 3d Rendering
The 3d modeling regarding the present work was made in Autocad. The render process, including texturing and landscape were made in 3d Studio r.4. which is an old version to 3ds max, one of the best 3d modeling and rendering software.
A Renovated Building with Arcade Courtyard
This 2-storey red tile roof building has on the first floor a manager room, administration room, classrooms, parking area, arcade courtyard with garden and lawn, a small pool and fountain, small swimming pool, social area and recreation room for leisure and games. On the second floor there is a lounge with balcony, dormitories, bedrooms and bathrooms.
In this page, I put some animated images, where the building is shown falling into pieces, as it was indeed, and shown as it should appear when the renovation had been completed.