3D Architectural Rendering | Block of Flats
The archictectural renderings refers to a 3d visualization of a block of flats condominium in Rio, made in 1998. The 3d exterior renderings shows the facade and entrance of the building. See other 3d renderings of this building from another point of view along with a furnished unit floor plan.
About this Work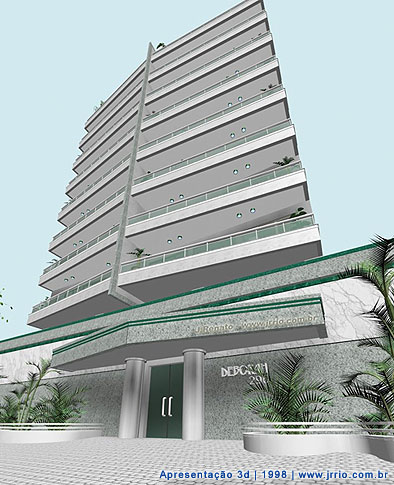 This architectural presentation was requested by a client from Rio the Janeiro CIty to promote his apartment building development. The developer requiered static images concerning architectural perspective and floor plan renderings of all the units to display in sales offices and brochure.
This 3d modeling and architectural perspective rendering are also available at another page directed linked to this one. If you want to see the front angle view, click on the indicated link.

Click here to enlarge the perspective view

Click to see the front angle view and a floor plan rendering of a unit of this apartment building

About the Condominium Building Presentation
This 10-storey apartment block (including the penthouse and parking floor) has 4 apartments per floor, being all of them almost the same size. It is situated in Tijuca, a good neighbourhood of Rio de Janeiro City.
The front apartments have large balcony. The condominium has social area with party-room, sauna, jacuzzi and play-ground.
All the rendering was produced in 1998.

Rendering and Modeling Notes
This 3D model is a well done work in terms of 3d architectural modeling.
It is an accurate model, built according to the final design of the building, provided by the property developer.
The 3D model were built in Autocad and the render process were made in 3d Studio r.4, the old verison for 3ds max.