Blueprints and technical floor plan is difficult to be understood by homebyers and they have no appeal.
Floor plan renderings are useful to present the lay-out of houses, homes, apartment buildings, condos, resorts, hotels, dorms and suites. Fully furnished floor plan renderings enable buyers to imagine themselves in the interior of the building or house.
It is ideal for both commercial and residential projects and are used as marketing material, to display in sales offices, websites and brochures.
The purpose of floor plans presentation is to make the layout of an interior comprehensible at a glance. Long before the house or apartment is completed, the homebyer can imagine himself in the interior. The fully furnished floor plan
convey a sense of the lifestyle that buyers expect to find in their new homes. The buyers can see the way they could use the interior space and imagine themselves living there.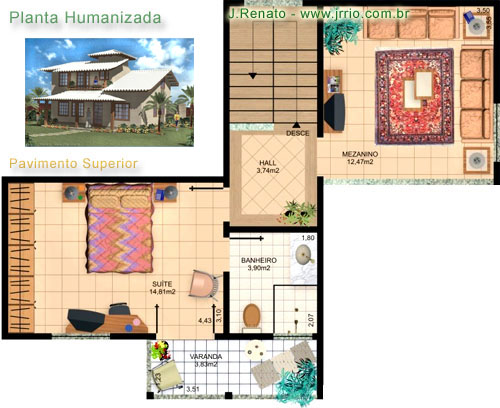 The floor plan rendering shown on the right side was requested by a property developer to promote his house develoment in B˙zios City, in Rio de Janeiro City, Brazil.
It is the floor plan of 2-storey house, and this floor plan represents the second floor, where you can see the staircase, mezzanine, bedroom with bathroom en-suite and veranda. The 3D architectural rendering of the house is also seen in the illustration.
To make this digital presentation I used Autocad to make the 3D models and 3D Studio r.4 to render.
In fact, it is a plan view of the 3D model layout. Although it is a "flat plan" or plan view, it gives the ideia of a picture of the fully furnished house, as if the picture had been taken without the ceiling and roof. It has also a photorealistic appearance.
The floor plan rendering shown immediately below refers to a unit of a condominium in Cabo Frio City, in Rio de Janeiro State, Brazil. It is the second floor of a 2 level penthouse. The penthouse has balcony on both floors. This second floor contains 2 bedrooms with en-suite bathrooms and balconies. In the floor plan you can also see the terrace with deck, jacuzzi, shower, barbecue area, pergola and flower beds.
This floor plan render were not generate from a 3D model. It was made in Corel Draw and it more similar to a stylized representation or handmade illustration.