3D Visualization | Condominium Building
3d architectural rendering of a condominium in Cabo Frio City. This presentation was made in 2006, required by the property developer.
Overview on The Condominium 3d Visualization
The 3d modeling work and 3d architectural renderings of an apartment building in Cabo Frio City, Rio de Janeiro State, Brazil, was required by a property developer in November 2006 to visualize the building before it was completed and to use it as sales material.
The presentations resquested by this client are exterior perpective views of his development to use it as marketing material, to display in an sales office and in brochure.
Using the architectural drawings provided by the client, I constructed a detailed 3D model of the development, with realistic surface materials and landscaping. Using the 3D model, the still images were generated.
In the 2 images, which are the architectural perspective views of the building, you can see the Condominium front eye level view and front angle eye level view as well.
Floor Plan Renderings: All the units of this Condominium, including the apartments and penthouses were made by me as well.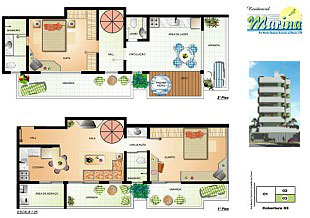 About the Condominium Building
This 7-storey apartment block (including the penhouse) has 3 apartments per floor differing in size. It is situated in Cabo Frio City, a city with beautiful beaches on the north of Rio de Janeiro State.
The front apartments have large balcony with deck and jacuzzi. The penthouses also has deck and jacuzzi on the terraces. The condominium has social area with party-room, garden and play-ground.
All the static images were generate using a computerized three-dimensional model, built according to the final design of the building. Both the 3D modeling and renderization process were made in Autocad 2004.
As to the presentation of the floor plans was made in Corel Draw in a non-photorealistic style.
On the right side, it is the furnished floor plan rendering of an apartment building unit.