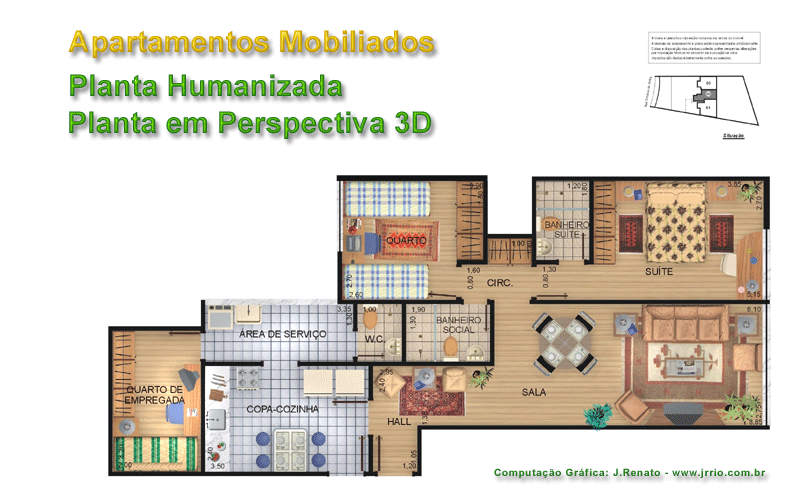 3D Fully Furnished Floor Plan Rendering - Plan view and apartment dolls house view or "Lid off"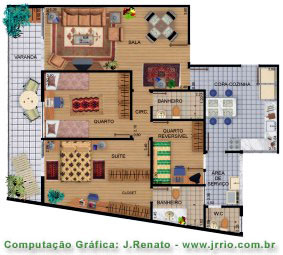 About the 3D Floor Plans and Flat Floor Plan Renderings:
In this page, I put samples of computerized three-dimensional floor plan renderings. The fully furnished apartments are shown as if they were being seen from the top (plan view) with out the "lid", or seen from a different angle of view, to produce the effect of dolls house, with what the home buyers can imagine themselves in the interior space. At that time, it was an innovation to show the lay-out of the apartments. In 1998 this kind of presentation was not usual. Still nowadays, this kind of presentation is not usual sales office in Brazil.
These floor plan presentations were made by me when I worked for a short period of time for an architectural office. The design of the apartment building were made by the architect owner of the office.
It is about an apartment building, in Rio de Janeiro City, that is now completed. The property developers wanted static images to promote the development. Photorealistic floor plan renderings, including traditional flat floor (or plan view), and dools house view (or "lid off") were required to be used as marketing material, to display in sales office and brochure.
Technical Aspects
All the floor plan renderings were generated from 3d models. The 3d models were made in Autocad. As to the render process, I used 3d Studio r.4. which is an old version of 3ds max.
To make the page layouts in large format to display is sales office, I used Corel Draw e PhotoShop.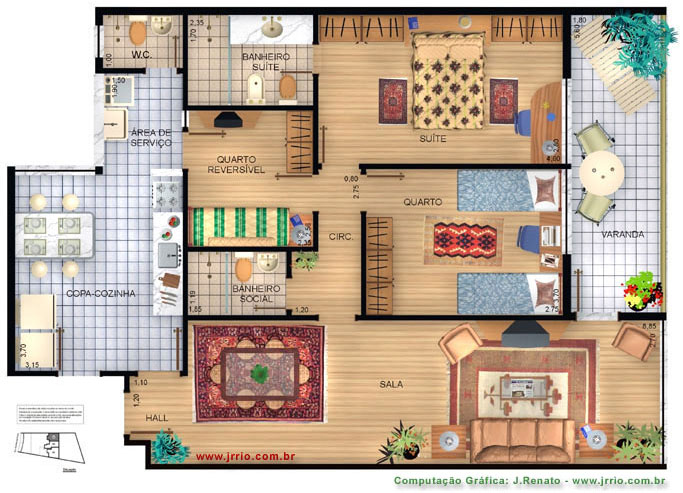 Above: Fully funished floor plan rendering - architectural apresentation
Below: The "dolls house" view or "lid off" of the same apartment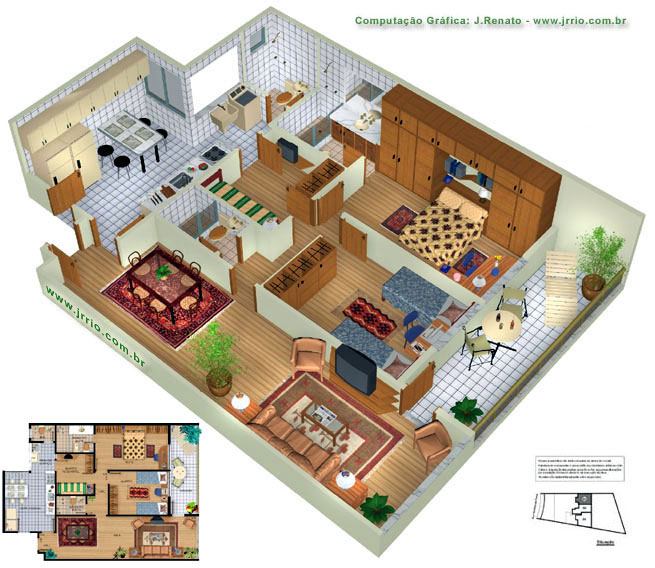 Above you can see the dools house view (or "lid off") of a apartment and its correspondent traditional flat plan. Both images were generated from the same 3D model of the unit. Sincere there was different apartments in size and lay-out, a 3D model to each apartment were made. The same 3D furniture were used in all 3D apartment models.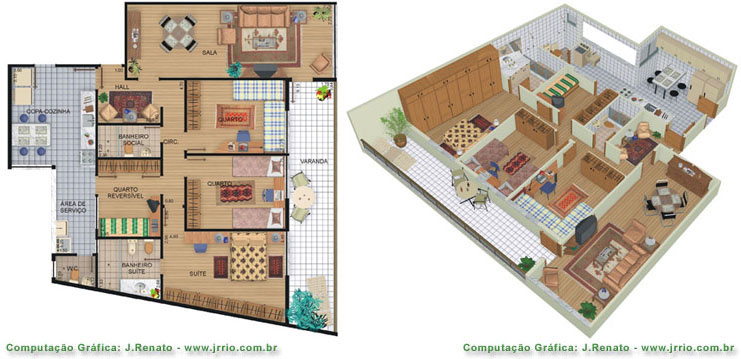 Above you can see another unit presentation of the apartment building. On the left the photorealistic flat plan and on the right its correspondent 3D dolls house view. To make the drawing more comprehensible, some walls were represented at half height. The ceiling of the apartment do not appears in the illustration, as if part of the drawing had been cutaway. That is why this representation can be also known as "lid off". The homebuyers can have a more accurate information about the new home, and also understand how the interior space will be.

www.jrrio.com.br - All rights reserved - Autor no G+ - Privacy Policy