CAD
Computer Aided Design
3D Model
3D model is the product of 3D Modeling. The 3D model can displayed views of the object and this process is called 3D rendering.
What is 3D Mesh and Wireframes?
It is the structure made of lines and faces the form the objects. Curved objects and organic shapes are made of a great amount of faces.
3D Visualization Specialist - 3D Visualist
It is a person who works with 3D Computer Graphics and make presentations, 3D renderings and 3D animations to visualize projects and design before it is competed. This job includes modeling, composition, texturing, lighting, animation, storyboarding, camera definition, and post production visual effects.
3D Artists
It is the person who works with 3D Graphic Computer and has not only technichal knowledge, but has also talent to give a personal touch to the work, making it a criative and an attractive 3D Rendering or 3D Animation. Usually 3D artists has more flexibility to work and to create in the fields of publicity, 3d character animation, cinema and games.
What are the mains fields or tasks of a 3D Visualist and 3D Artist?
A 3D Visualist and 3D Artist can be specialized in Lighting, Animating, Compositing, Modeling and Texturing .
3D Modeling
Regarding 3D computer graphics, 3D modeling is the process of creating a wireframe that represents some three-dimensional object using computer and some software.
What is Texturing
The wireframe or 3D meshs has to appear as if it was composed of real materials. The textures can be pictures of material that are attached to the surfaces of the meshes or can be some color or a combination of many textures to simulate features like transparency, roughness, diffusion, reflection, especular, illumination, etc.
What is Lighting
It is the process of putting 3D light sources within a 3D Scene.
What is Animating
It is the process of given movement to cameras, lights or objects that takes part in a scene.
What is Compositing
It is the process of blending of real life video or photography with the 3D scene/objects.
Photomontage is an exemple of this, and camera tracking is also an exemplo regarding 3D animation.
2D Animation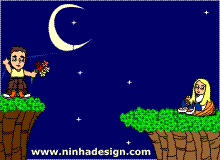 2D bitmap graphics figures or 2D vector graphics are created and edited using computer to produce a sequence of animated images. Differently from the traditional animation, 2D computerized animation includes automated computerized animation techniques such as morphing, tweening, and interpolated rotoscoping. Flash and Corel Rave are softwares to produce 2D animation. Animator was another softwere that was used to produce 2D animations in old times.Nowaday, many websites have Flash 2D animations and the animation on the right is an exemplo.
3D Architectural Animation
It is usually a brief architectural film created on a computer using a 3D model and the objects that take part in a 3D scene.


Differently from an architectural rendering, that is a single picture taken from a single camera point of view, the 3D animation has several still images shot by the virtual camera. The sequence of this image produce a movie effect like a real camera.
In a 3D animation, not only the camera but also the objects take take part in a scene can move as well, such as people, cars, etc.
Usually it is done long before the project is built to give shareholders, property developers, designers a realistic view of the project.
Sometimes architectural renderings are used along with 3D animation.
Click on the link If you want to see an old technical 3D animation of a surgery room. To another oldies architectural and technical 3D animations click here.
Fly-By: It a 3D animation, simulating a fly around the building.
Walk-Through: It is a 3D Interior Architectural animation simulanting a walking inside the building.
Real Time 3D
It refers to the instant interaction with the viewer. A real 3D presentation has the ability to generate views from a 3D model instantly, given the views the option to choose the angles of view, path and and explore the parts of the 3D Model he is more interested.
Anyway this concept is still in development and are relatively new. Usually it requires powerful hardware and video card, as long as with highly optimized 3D scene
Back to the top >>